Well I never thought I would be posting a trip report in a Big Game fishing forum but Here I go.
It started with a call from my mate "baldbob" or "bob" a few months earlier asking if I would be keen on a Blufin trip on one of his works boats, it would be a day or two notice for a weather window basicly drop everything and go.....would I? shit yes I would.
Barely an hour of sleep on his lounge floor then everyone was up and we loaded ice, hoki frames for chum, bait food and fuel for the deregistered for the trip boat.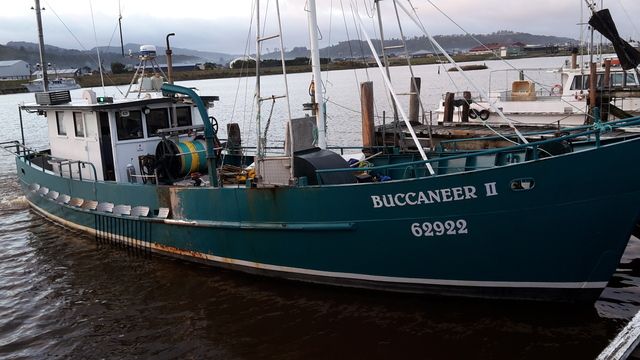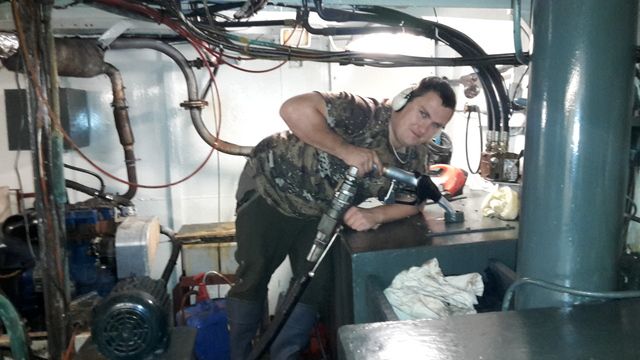 heading out of port
Some of the tackel we would be using, 303 for scale.
Over the bar and on our way. Should be a vid if you click it?
Bob doing some greasing and tuiman doing some burlying
click for vid.
Camera envy
We dropped some longlines and caught some bluenose,spiky dogs,snakes and hake.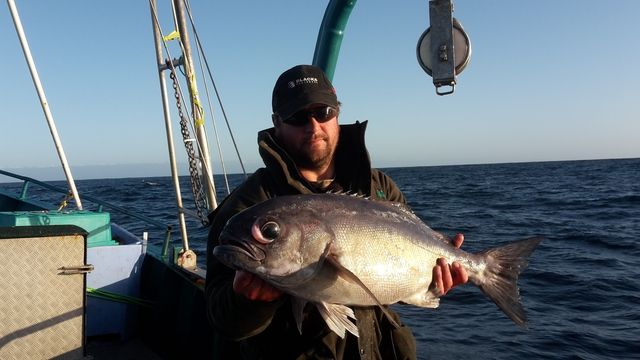 Then it was more steaming out to where the factory trawlers were fishing to try for a blue fin as the light faded.
I offered to go first turn as chum bitch throwing over a bit every 30sec-min, Bob was first on the handline and half a fresh hoki we caught earlyer only lasted a couple of mins and we were on!!!
Mild panic ensued as we scrambeled to clip on a couple of small floats to keep the line tight to the fish as there is no way to control a run. As the line screamed out on that first run the drum got more and more empty and the other end was hastely tied off!
I have no real idea how much line was in that drum but I am guessing it took between 300 and 400m of line before we could start hauling it back in.
For a start 3 of us hauled the line at once while one re coiled the recovered line in the drum.
We got to the leader and it took off again, there is absolutely no stopping this fish when it decides to run.
We were all getting knackerd after a couple more runs and recoverys but you cannot rest, if you rest the fish will rest more than you and recover.
The line was starting to twist on itself really bad as it was coiled back in the drum now and it was becoming a real concern both safety wise and loosing the fish wise, we needed to boat this fish now!
Tuiman who was very ill was woken up to come and apply the icky stick when we got it alongside.
Finally by the boat coup de crace was applyed with a few 22lr rounds to the head.
Now we had another problem, the hydraulic winch could not lift the full weight of the fish and we had no sea door and the gaff was working threw the flesh with the swell, eventually we got a tail noose on it which was not easy in the swell and dark leaning over the sides.
At least we had it secure, there was talk of towing it to port but we persisted and with a team effort of winch maxed bouncing and pulling on the line and two guys hauling on the tail rope with the help of the swell bit by bit little by little we got it up and on board.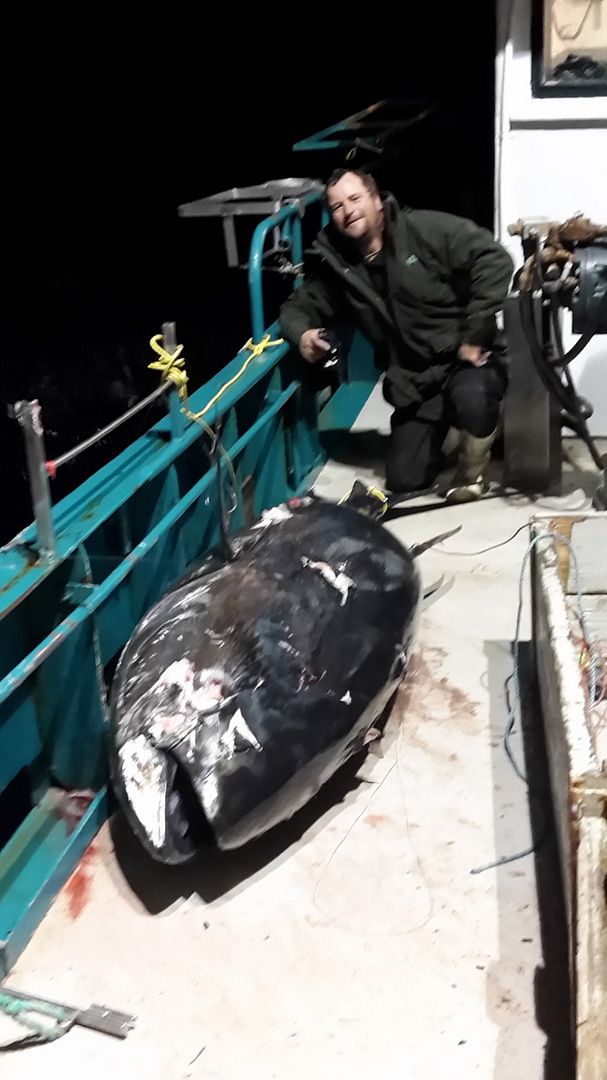 Hooked at 1830 we had it on board at around 2130
We were all pretty rooted,we recovered and rehydrated for an hour or so then the next mission of gilling and gutting it was performed and one final massive effort to get it over the 500mm lip and into the hold and packed with ice.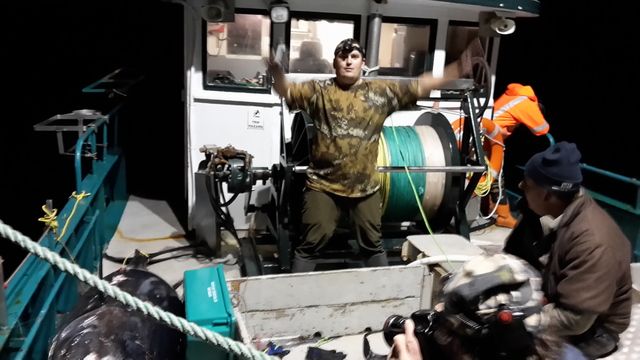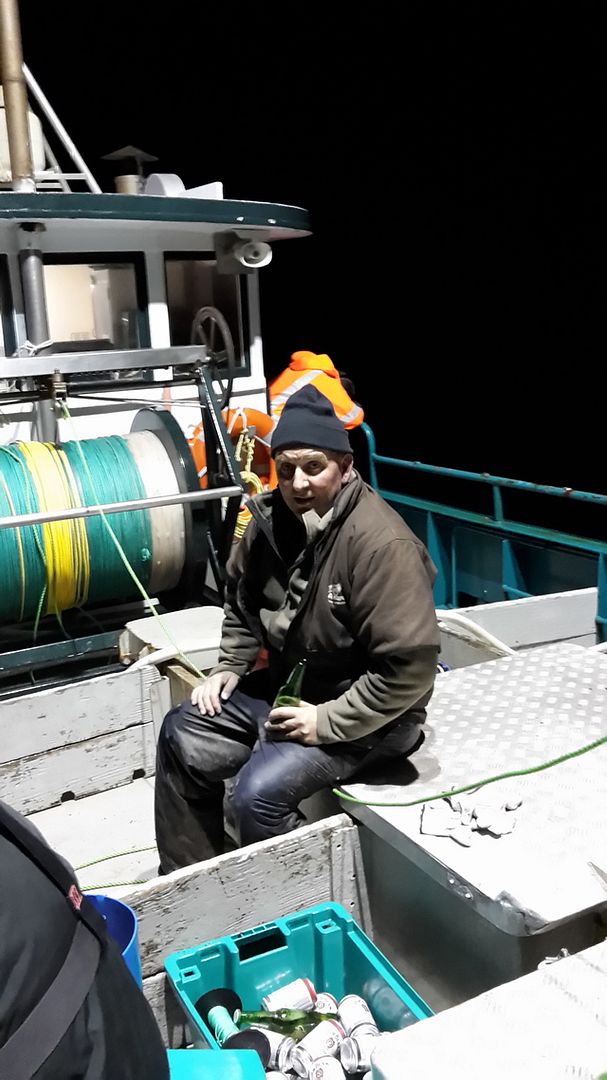 The next day we dropped some lines again and also rod fished, tuiman was much better today and could join in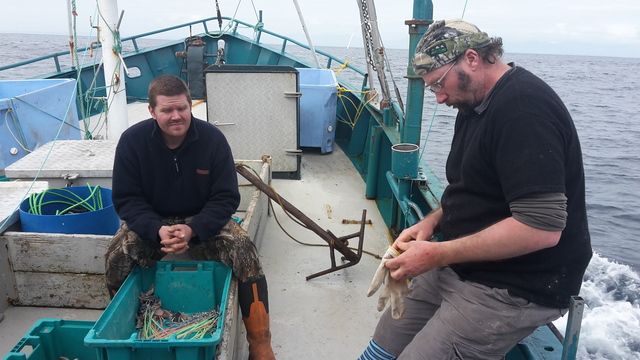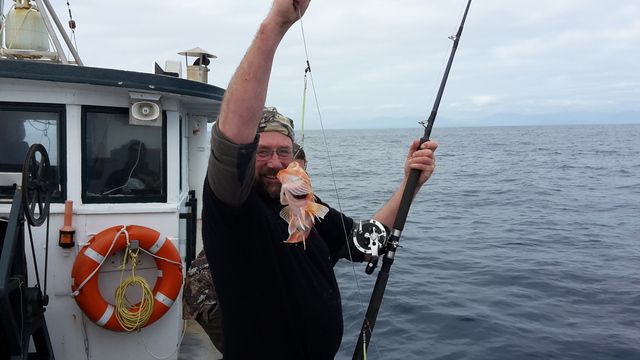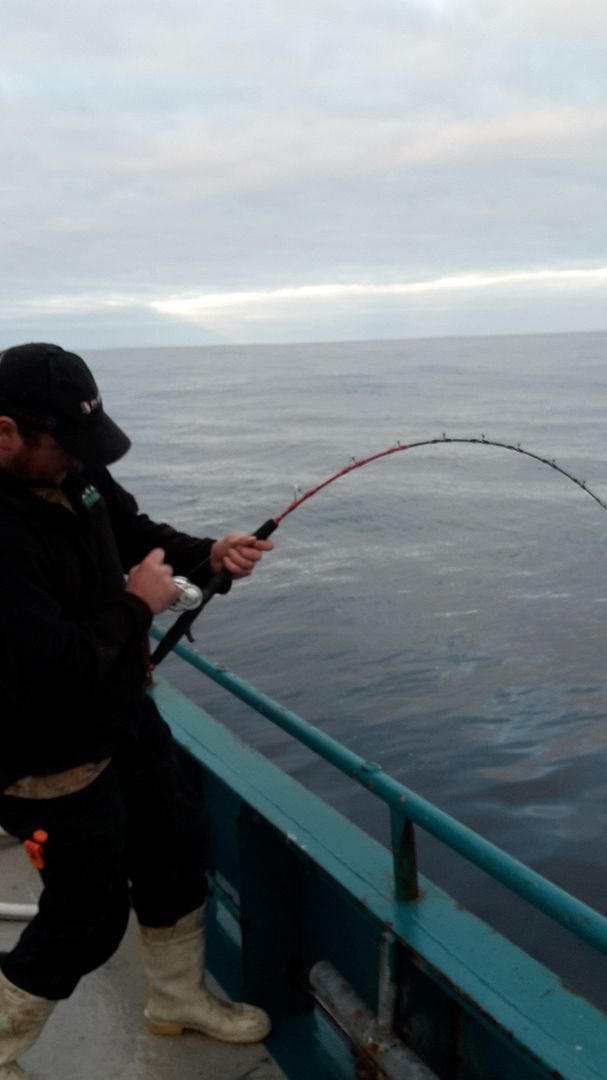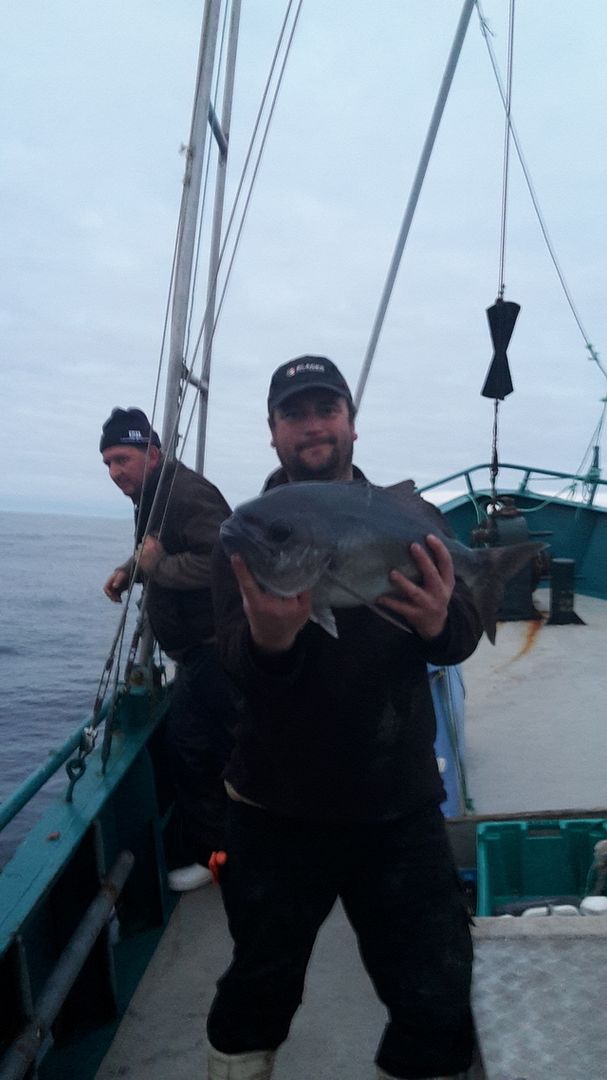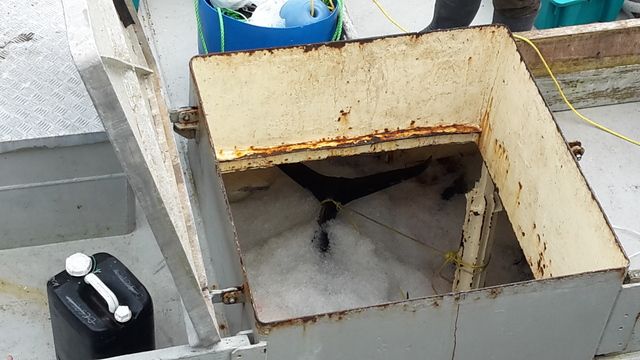 It was a great second day the weather was a lot calmer and the fishing was good, we headed for port that night and tomorrow the clean up up boat and fish etc began.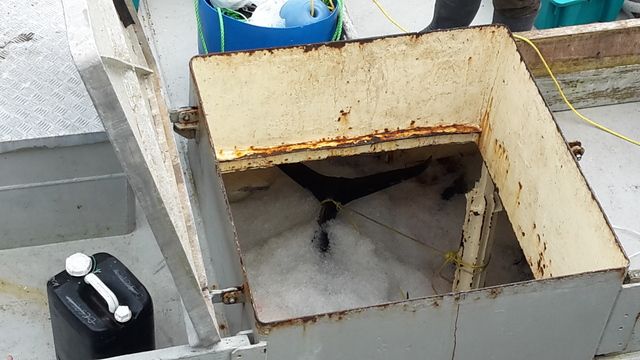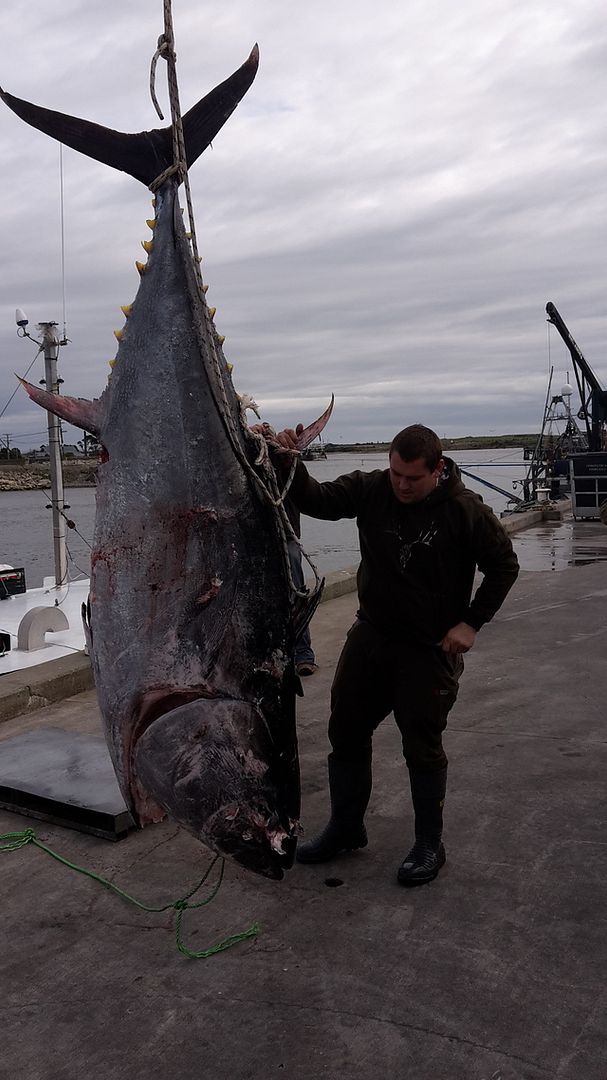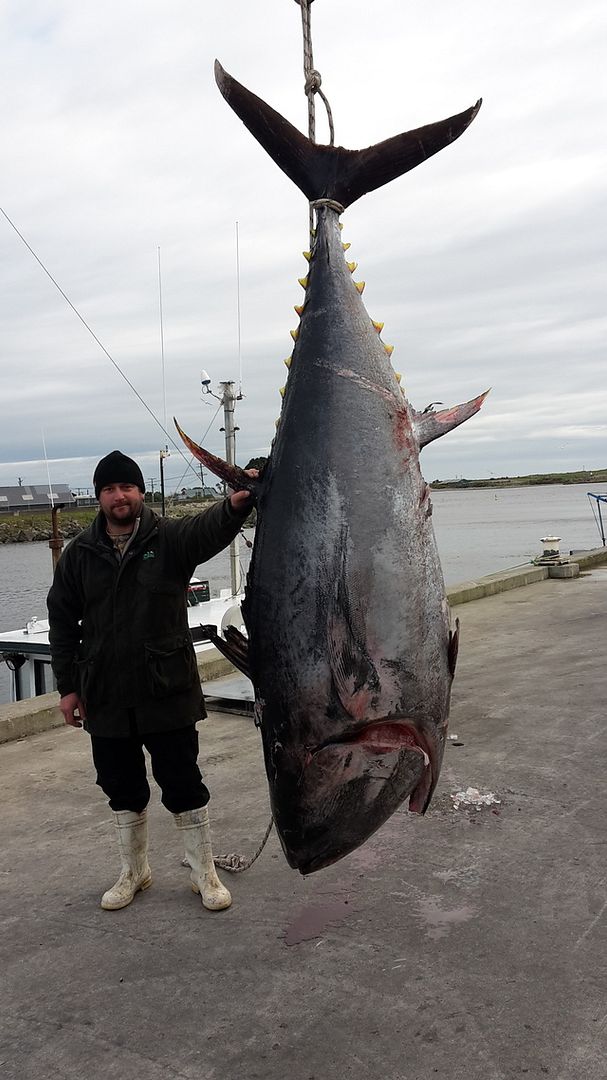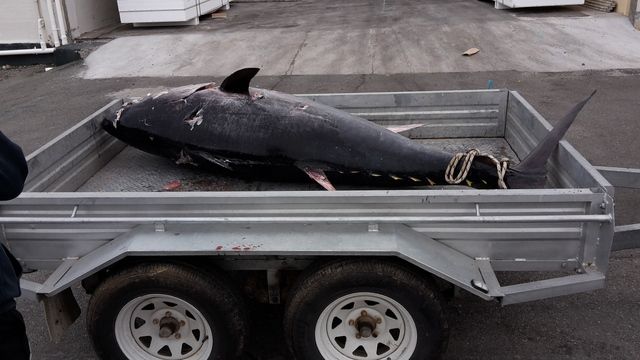 The filleting mission begins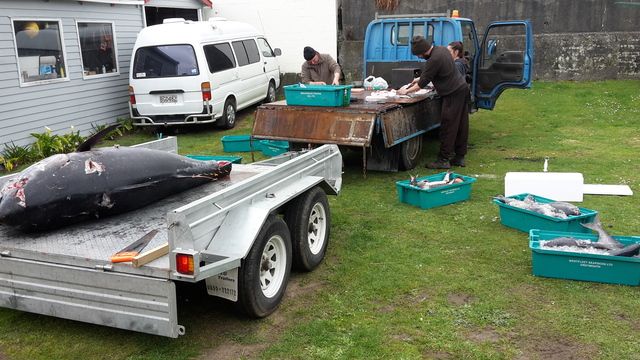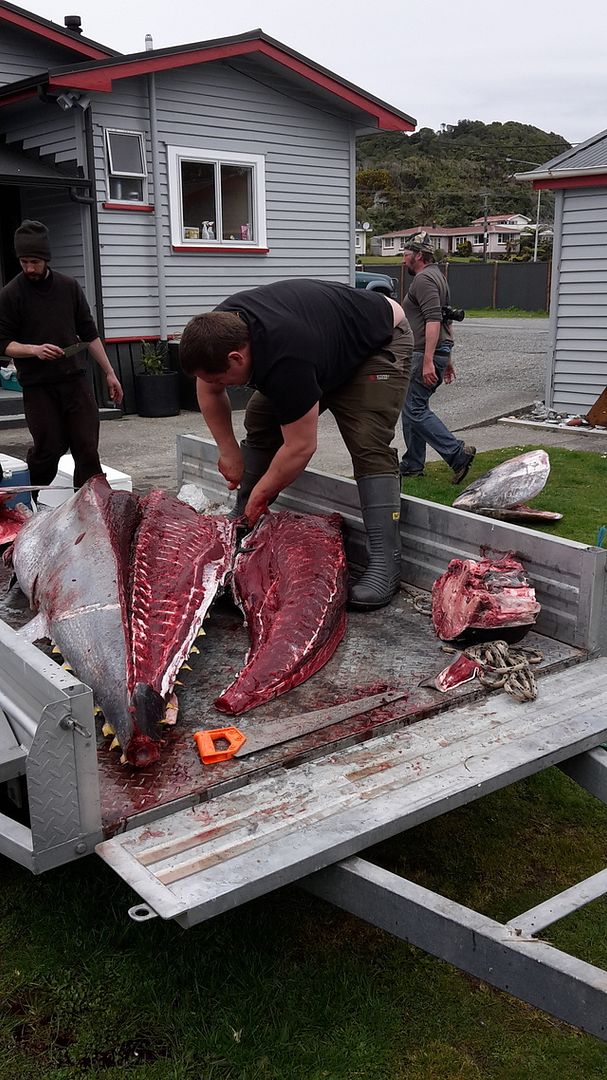 Was a trip of a liftime for me and was shared with a bunch of good barstards.
Special thanks to Adam....Epic trip mate