Well a few years back know i had my first to pig dogs . Well sort of i had 1 pig dog rocky and Xena a lab x heading dog .
Xena started off life as a cattle dog but that didnt go to well one bad experience with cows and her cattle dog days were over .
Then i Tryed her at clemnts mill road as a deer dog . She winded in all directions and i thought she was smelling possums so that was deer dog out at this point . Then when Xena was about 2 i got rocky from the pound and rocky proved to be a pig dog from the first outing getting a nice fat 85 lb sow .
After a couple of pigs xena proved to be a good bailing mate for rocky .
Xena started to catch her own pigs after only 4 or 5 pigs . She got her first rip and was a bit boar shy but was still good back up to rocky .
The to of them started to go well as a team . Then came the nearly dog killer i had snuck into the bail good wind and all but when i got to about 15m the wind shifted and the pig left at a great rate of knots . i thought i had heard a bit of a low yelp but was not 100% sure any way after about 30 min all the dogs returned apart from xena . Right then i knew it had been a yelp and i looked around and could not find a trace of Xena .
We went up to the track and sat for an hour yelling and whistling . to no avail . right i said we will go back to the truck . I stood up and took 5 steps and seen blood on the track oh shit i was right . only another 5 steps later their is xena lying in a puddle of blood looking crook but she still managed to 5th her head and wag her tail . I picked her up and saw the wounds after a 2km carry split between the 2 of us we hit the ute and hit the road for the vets .
She pulled through alright just and 8 weeks later i was on my back to the same spot i hit the top of the track were xena had lay and not long past their the 2 dogs opened up on the bail i had not even started moving when i heard the pig break and steam off across the face then pull and bail again .
Right i was on my way only for the bail to stop again after another min the pulled it again . i wasted no time heading to the bail i found a good path and arrived fairly quick and i snuck the last 100m like a snail . once i arrived at the seen i se a good black boar backed up to a log a quick pop with the 223 and it was lights out we got redemption i never did hit another good pig their and only assume it was the same one . Xena and the nearly killer
Xena had got what she wanted and after that would come off the bail of a good boar and stand becide me so i retyred her from pig hunting .
I had seen her winding deer now and new that time at cleaments mill she had been smelling deer but i was to dumb to know haha.
Xena went on to become a very good deer dog even developing a full point . still catching the odd pig but every time i come acros a good boar she would give me that look of You go first boss your the one with the gun haha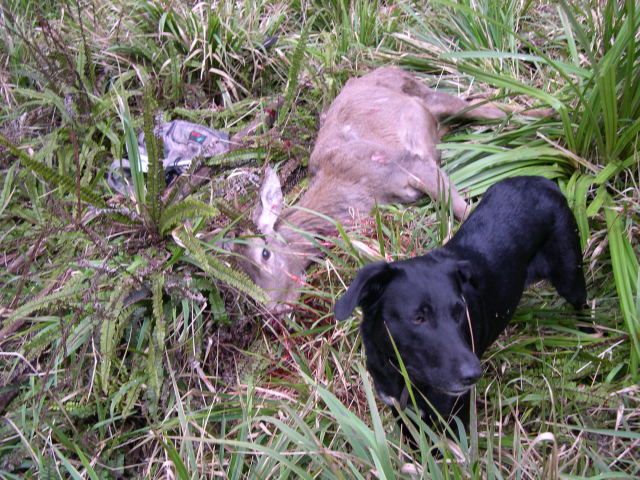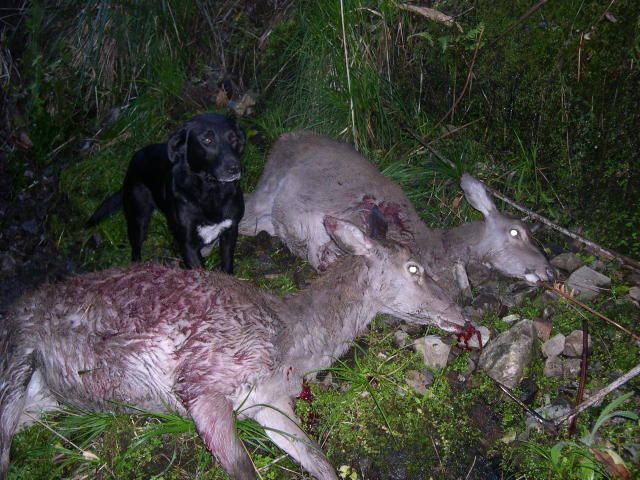 I still use her as a deer and duck dog now . Ive even taken her out pig hunting a couple moor times and she proved to still be a hard arse dog so xena dose not come pig hunting any moor as she wrecks alot of meat and makes the pigs unable to be let go. now her grand son boy is my main dog
[URL=http://s1121.photobucket.com/user/Michael_Hillbilly/media/c33%20003.jpg.html]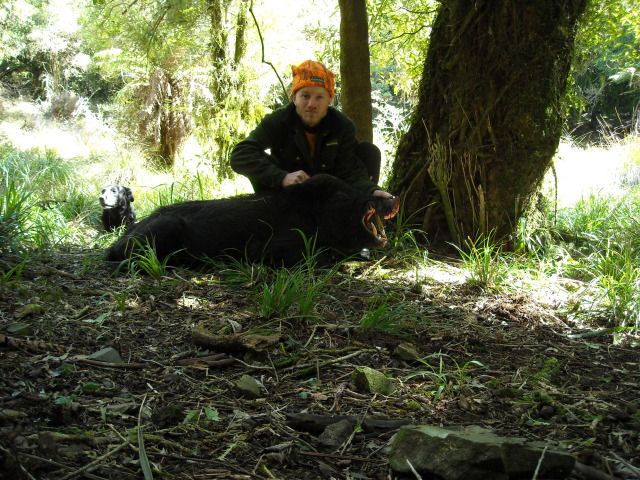 [/URL] rockys to pups are up and comeing to